4WD Adventure Australia
Australia has a diverse and unique natural environment with some the last undeveloped wilderness areas left in the world. The contrast of the landscape varies from immense desert regions to impressive alpine mountain snowfields; from rainforests dominated by huge trees to the numerous tropical islands and coral reefs of the Great Barrier Reef. Surrounding this great land is vast coastline, stretching for some 36735 kilometres and made up of sandstone cliffs which resemble gothic grottoes, the fingerprints of storm and wind, and golden beaches that stretch for many miles at a time.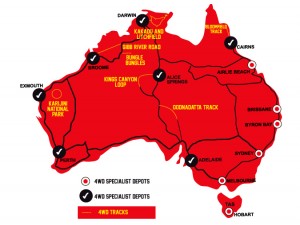 Motoring is a delightful way to see Australia and there are many formalities to impede the progress of travel other than fruit fly and tick checkpoints at some State borders. One can travel as one pleases and explore places near and far. The vast network of highways and roads link the great cities, towns and country areas and range from broad freeways to well-worn dusty tracks across the great Australian inland. For the more adventurous traveller there are also enormous tracts of frontier which can only be explored by four-wheel-drive vehicles. Most visitors are drawn to the beauty and excitement of the great Australian 'Outback'. And many travel on their own self drive campervans to destinations off the beaten track.
See more of Australia on the road
You should always start your journey by researching and preparing an itinerary. In this way the traveller can properly plan a tour to take into account budget, mode of transport stop-over points and places to visit. Now this is where we come in, our campervan rental can take you places, stop-over points and will save you money on your trip and accommodation. When you travel on our campervan rental, you will be served with an all in one accommodation and mode of transport you require for your self drive holiday. And touring this vast and great continent, it is best to discover it on the road. All you need to prepare is your itinerary and detailed maps of your intended route.
Motoring is a delightful way to see Australia, giving travellers flexibility and independence. They can travel as they please, explore places near and far, and stop whenever the mood takes them. Australia is serviced by a vast network of highways and roads, ranging from broad freeways to well-worn dusty tracks. Our campervan is the ideal vehicle for motoring, which able to deal with the worst road conditions with ease. There are many roads that can be explored all year round, and they all pass through majestic country and lead to exciting destinations.
Travelling in our campervan allows ease of catering which adds that little bit more comfort for extended tours, without having to spend money on expensive accommodation. Our campervans are fitted with all your required necessity; convertible beds, water tank, extra storage space and gas stove.